Wow! This round we had quite a few entries to AVF, and I'm super-excited. Y'all must really like quiche.
I'm doing something a bit new this time, in that I've decided to go ahead and do another round in a month, and announce the theme right away, so that we can keep the ball rolling so to speak. AVF #4 will be... a
Vegetarian Picnic Feast!
This is obviously very open-ended, so feel free to be creative. Meatless grilled items, salads, desserts, sandwiches... whatever YOU like to eat outdoors, that's fine by me. The due date is
Friday, July 4th
. Now, on with the round up!
First we have
Holler
, stopping by from her blog Tinned Tomatoes with this amazing-looking
Tomato and Broccoli Quiche with a Layer of Pea Puree
. She suggests less peas next time, but the quiche is beautiful and colourful, and I want to bite through the screen to get a taste of those tomatoes!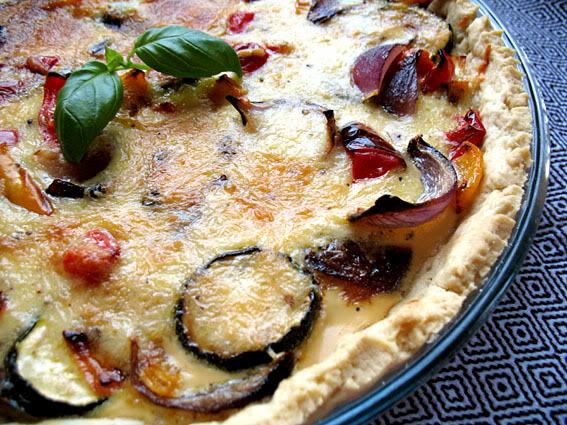 Next up is
Sylvie
from A Pot of Tea and a Biscuit, and she brings us this
Roast Vegetable and Gruyere Quiche
. Sylvie, how did you know that I'm a sucker for gruyere and red onion? The courgettes/zucchini at the Farmer's Market have been looking great lately, too. I'll have to try this out!
From Closet Cooking,
Kevin
brings us an
Asparagus and Mushroom Quiche
. I think asparagus has to be
the
quiche ingredient. It just makes me think spring, light, and delicious. And of course, you all know I love mushrooms. Thanks, Kevin! I also applaud your use of local asparagus - well done.
Johanna
from Green Gourmet Giraffe is another new face on this blog, and a vegetarian foodblog I haven't seen before - how did that happen? She hails from Melbourne, and though I'd worried that this event wouldn't be very Southern hemisphere-friendly, quiche being such a spring favourite, she stepped up to the challenge with a
Pumpkin Cornmeal Quiche
, tasty and creative!
As for my own offerings, while my guests all decided to go with the quiche route (and hey, the name was rather catchy), I decided to play with savoury tarts, and specifically with puff pastry. I've never worked with it before, but I had a feeling it would make tarts oh-so-easy (the frozen kind, at least) and delicious. I wasn't wrong! I made a
Caramelized Vegetable Tart
and a
Green Tomato Tarte Tatin
(pictured, if a bit blurry, due to camera upload failure). Though I had some troubles with the first one, the green tomato tatin was excellent for spring, and just the combination of Southern and French that I was looking for!
Thank you again to all those who participated and helped spread the word about the event!